Ensuring Time Comm is running
How to ensure Time Comm is running
Prerequisites:
Check if Time Comm has communicated with the API in BC Time

Open the Time Comm application and ensure it is running

Starting the Time Comm service

To prevent Time Comm from stopping, Ensure you have the time comm starter configured on your task scheduler
Step 1: Once logged into the system, click on API Authorisation(s) | Manage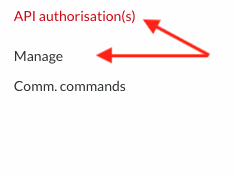 Step 2: Then select the API (named differently) with Type Device Communication
Step 3: Then click on the Comm. app details tab

Step 4: Check if the time stamp under Last comm.: matches your current time on your computer 

Step 5: Locate Time Comm on your computer under Program Files or Program Files (x86) in your Local Disk or C Drive or follow the following location paths:
C:\Program Files (x86)\TimeCommMan 
C:\Program Files\TimeCommMan
Open the TimeCommMan application

Step 6: Select Service from the Title Bar

Step 7: Click the Start Button if Time Comm indicates Stopped or click the Restart button
Status should then indicate Started

Note: Once Time Comm starts successfully, a default schedule runs every quarter of the hour to pull your attendance into BC Time. Check your attendance again after the next run for attendance
There are no comments for now.