High Five Bonus! 

#BCWorkersDay2023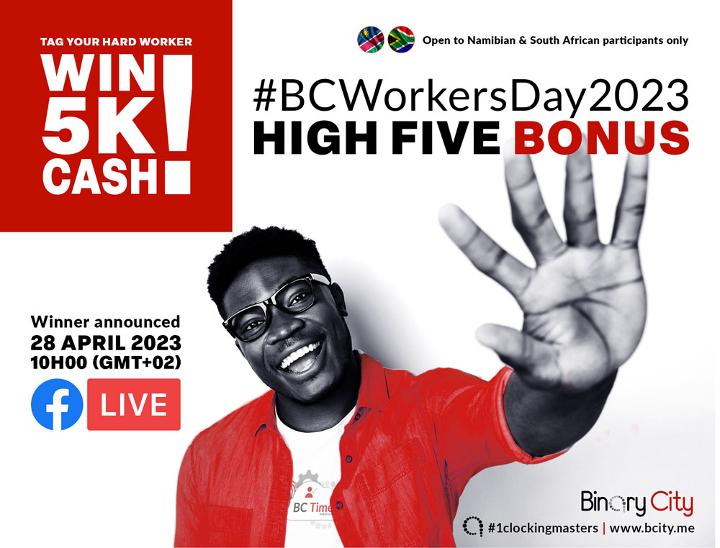 Tag your hard worker and stand a chance to high five them with 5k cash!

Workers Day Promo hosted by Binary City
Workers Day is a special day for Binary City. We believe that hard working people deserve recognition and....5k cash!! 
This is a selfless act promo whereby one nominates another to win. We are always encouraged to do random acts of kindness. This could be your moment to do just that, and grant someone you know with a HIGH FIVE BONUS, 5k cash prize!
How to participate
Winner selection and announcements
Though Workers Day is on 1 May 2023, we will announce the winner on 28 April 2023. Should you be selected, we will call you and the person you nominated, live, on our High Five Bonus, Facebook Live Event! #BCWorkersDay2023
You do not qualify to participate if:
If you have not liked and followed Binary City's Facebook page.
If you, and or your nominee, do not reside in, and hold a national Identification Document for South Africa or Namibia.
If you are below the age of 18 years.
If you have not nominated someone else (We want to bless the person who you feel is deserving to win this. If they in turn so happen to nominate you too, that's absolutely fine. Do this selfless act and nominate your hard worker, a friend or family member, deserving of 5k cash bonus).
If you or your nominated person do not have a Facebook account.
---
Our chosen nominator and winner - 28 April 2023
Congratulations to our Workers Day nominator, Selmah Lovekie Selex and the winner of 5k cash, Mr Sacky Vilho! 😍🥳❤ We were so happy to meet with them in person at Binary City - Windhoek on the afternoon of 28 April 2023, after our Facebook Live event.