Binary City launches
Binary City Saints! 
"We are so excited to launch Binary City Saints this year.  With so much happening in the world around us...."

Binary City Saints contributes N$10,000 to help bless someone's broken road this Christmas season!
To generate awareness to our cause, we are contributing N$10,000 towards helping someone this Christmas season and....we need your help to select the 'who'. 
 Few words from Rayno Burger - Binary City Co-founder
Become a BC Saint and help us by nominating someone who you care about and who needs a moment of relief this Christmas season. All you have to do is register and nominate that person or even a charity organisation that you feel is deserving.
They could be experiencing a trouble situation and N$10,000 could help make things better or help purchase something they need. Or maybe you nominating them to win this money because they are always helping you and this is your chance to try and give back. Please do register! If ever you wanted a chance to bless someone you care about, this could be your moment to make it happen. The odds are way better than taking the lotto, we assure you.  :-)
More about Binary City Saints - Bless the Broken Roads this Christmas
What will it cost to be a BC Saint?
Some of your time to fill in the application and nominate the person or charity organisation that you want us to help. We'd be so grateful to you if you could like and share the Binary City Saints social media post. #BCSAINTS


What will the chosen BC Saint win?
Nothing. As a BC Saint, we are devoting this moment to help someone else and find joy in doing so.
What will my nominated person or charity organisation receive?
They will receive a minimum contribution of N$10,000 towards whatever problem they may be facing. This contribution can also be given in cash value to completely spoil themselves this Christmas with whatever they need. Everybody needs a moment of relief, let it be now.
Will we help everyone?
Unfortunately no but, we want to. We are calling upon all businesses to join us in helping more people. This way we can aim to help many people & communities, be it now or later. 
I have a business, my team and I want to help, how? 
That would be amazing! Let's have a chat, we could share some of the problems we received with you and together help solve it.  Please email marketing@bcity.me or give us a call on +264 83 311 2000 or +264 81 951 2000
I have don't have a business but I want to help, how? 
Extraordinary!  Please do get in touch.  Email marketing@bcity.me or give us a call on +264 83 311 2000 or +264 81 951 2000
I live outside Namibia, can I still register for this promo?
Unfortunately not this time around but, we will be expanding Binary City Saints initiatives to South Africa soon and fully intend to reach the rest of Africa and the globe in the years to come.  
How will I know if I'm the chosen BC Saint? 
We will make mention of our chosen BC Saint on our website and on social media. We will however try to reach you over the phone first and, together, hopefully surprise your special someone with the great news. Things are going to be a little better for them this Christmas. 

The chosen BC Saint will be notified on 17 December 2021. 
Email marketing@bcity.me for any enquiries.  

We are so excited to launch Binary City Saints this year. 
With so much happening in the world around us, some good, some bad, the launch of Binary City Saints aims to deliver more good to our world and all who live in it.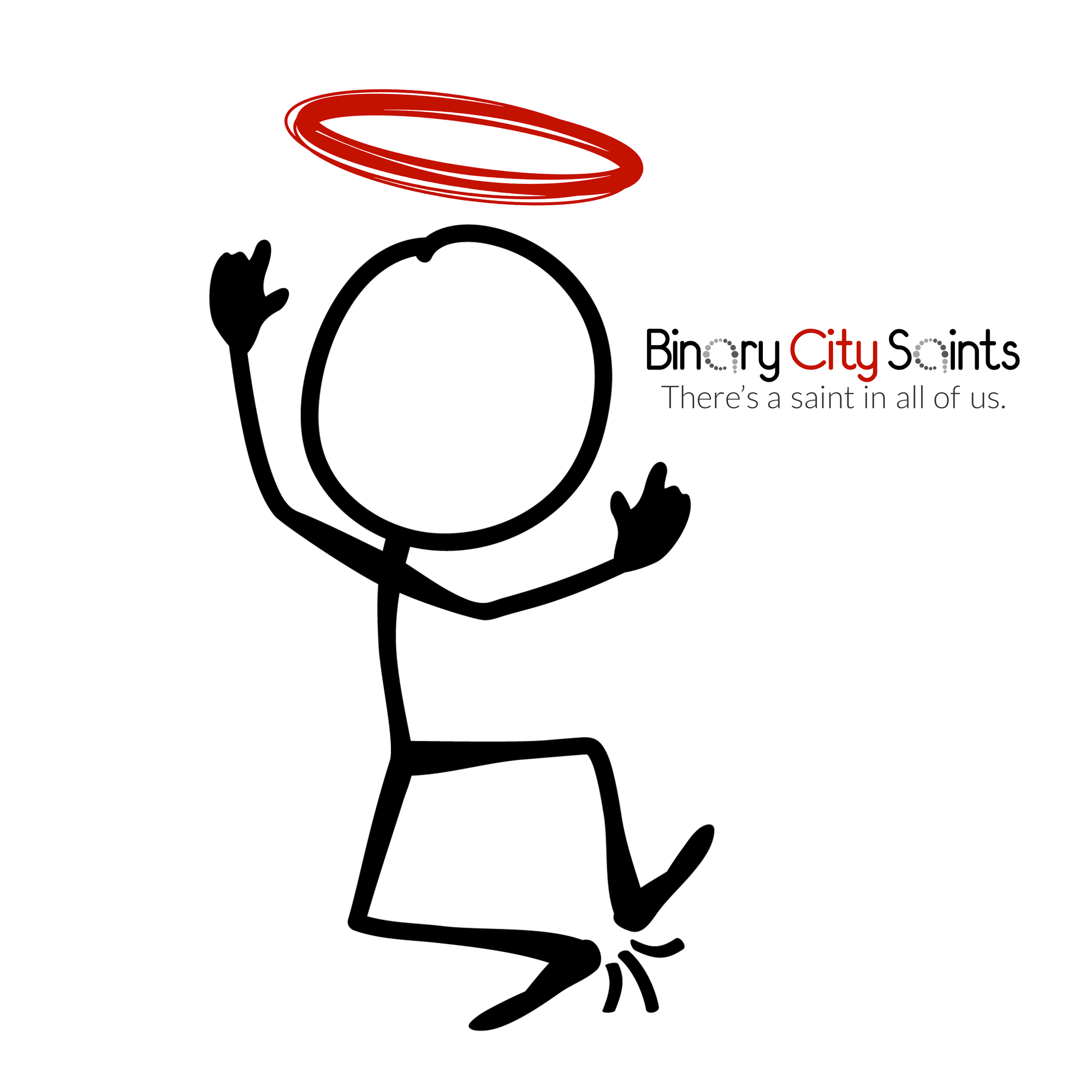 Binary City Saints will be taking lead in all good-will initiatives from Blood Donation Days, Educational & Leadership Programmes to feeding the hungry. For to be a Binary City Saint, is to be helpful to others without expecting anything in return. BC Saints finds complete joy and satisfaction in helping others.  What better time to kick things off than this merry season, where the spirit of helping others is felt more sincerely. Helping others and solving problems around us is the essence of Binary City Saints. We will start with this spirit now and aim to do so forevermore. 
We hope to gain your support, we would really appreciate it. :-) 
marketing@bcity.me
19 November 2021
Energy 100 FM becomes a BC Saint!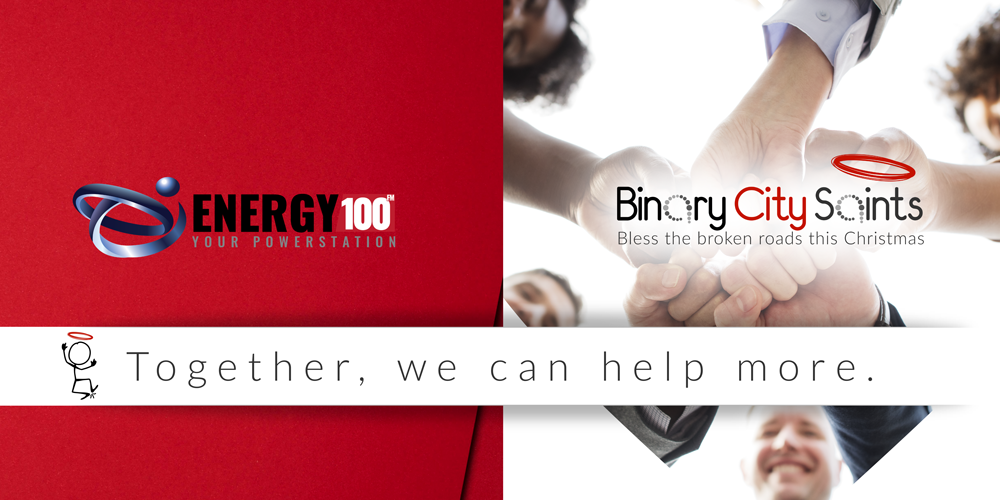 It's true, there's a saint in all of us. Thank you Energy100 for being a BC Saint. We really appreciate you!
Mr Gerald Johr
, GM of
Energy100 FM
, saw our call out for help and, like a true saint, he reached out offering a helping hand. Energy100 will be broadcasting our Binary City Saints commercial on their airwaves until the 17th of December, when the "Bless the Broken Roads this Christmas" campaign ends. We are so grateful to him and his team for this outstanding gesture!
After speaking with Gerald earlier, it was evident, this is truly a person that cares about other human beings and has a very kind heart. BC Saints & Energy100 will definitely be talking more about other initiatives like this. We feel blessed to have connected with Gerald Johr and Energy100. This is only the beginning of our friendship and because we share the same intention of helping the people of Namibia, our friendship will never end. Much love and respect.  Thank you for being a BC Saint!

Listen to Energy 100 FM :
Windhoek - 100.0FM
Rundu - 100.7FM
Coast - 88.8FM
North - 100.9FM
DSTV Audio - 868
GOTV - 302
or visit https://www.energy100fm.com/

Binary City Marketing.
Should anyone wish to help too, please email marketing@bcity.me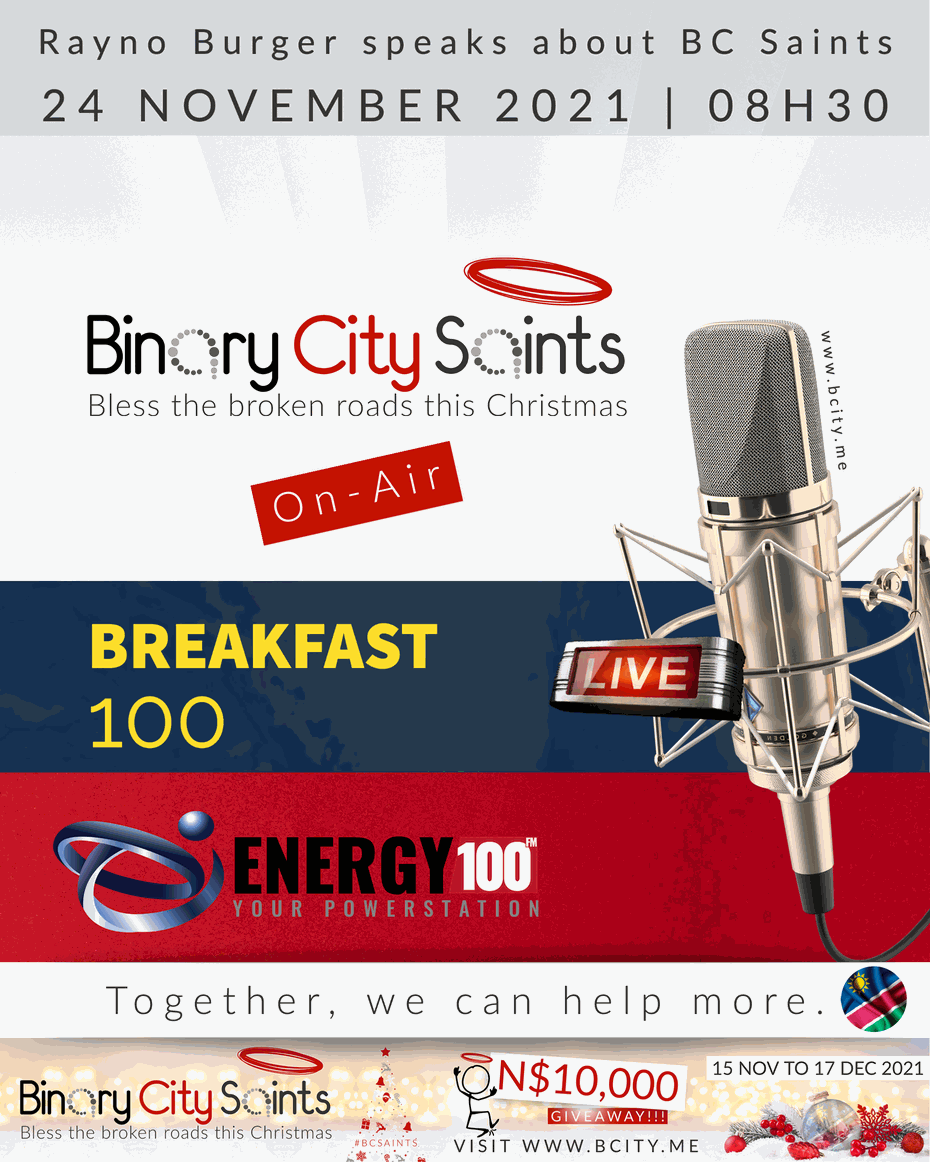 Listen to the interview :
Congratulations to Tania for being our chosen BC Saint this year!  
Tania nominated her sister, Elizna to receive a helping hand of N$10,000. Elizna, you are so deserving a moment of relief this festive season and we hope this helps.  :-)