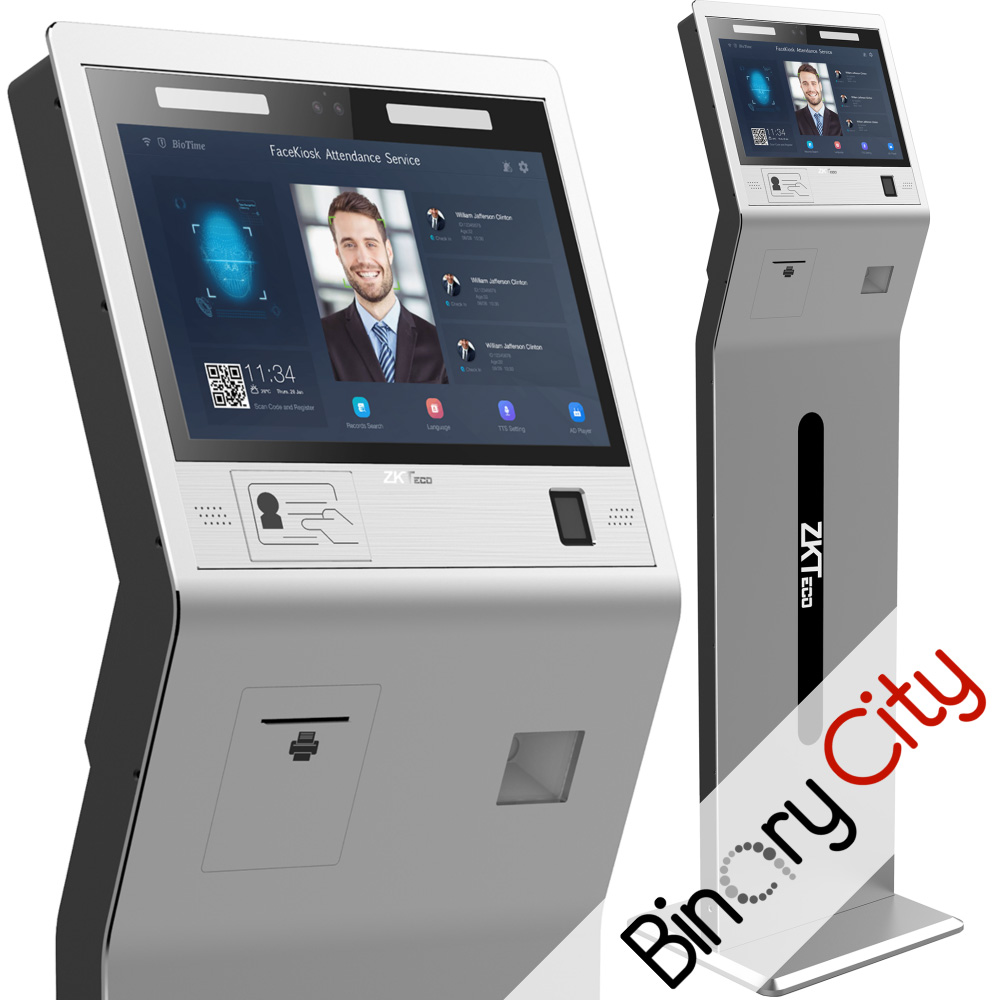 ZKT FaceKiosk-H13
This product is no longer available.
---
FaceKiosk-H13 - Multipurpose Facial Recognition Kiosk
DESCRIPTION
FaceKiosk-H13A is a 13.3-inch touch screen multipurpose facial recognition smart Kiosk with an Android system. It is designed to provide friendly and interactive user experience by incorporating fingerprint, and Mifare module in it. FaceKiosk-H13 has a range of optional module functions available based on FaceKiosk series, including a built-in Mifare card reader and fingerprint sensor, which can verify the user's identity through, not only facial recognition but also, fingerprint and smart card or hybrid verification.
Moreover, the hardware interface and diversified functions can meet the different needs of different users in different scenarios. ZKTeco EDK (Facial Recognition, Age, and Gender Assessment) based on the Android platform is combined with a touch screen for facilitating the rapid deployment of third-party apps, providing customers with high quality and stable hardware development environment. This advanced technology can be applied to many scenes and fields such as conference display, e-learning classes, time & attendance, access control, visitor self-service, and so on.
FEATURES
Support MF Module & Fingerprint


Support Temperature Detection Module (Optional)


Support 1:1 and 1: N face comparison


Support TCP/IP, USB Host, Wi-Fi


IP65 (waterproof and dustproof )


Interactive operation experiences


Integrated binocular camera with anti-spoofing function


Unique registration, one facial template per user


Strong flexibility and adaptability in applications


Elegant appearance


Temperature Measurement Distance: 30 ~ 50cm (1 ~ 1.64ft)


Temperature Measurement Accuracy: ±0.3°C (±0.56°F)


Temperature Measurement Range: 34 ~ 45°C (93.2 ~ 113°F)

SPECIFICATIONS
 Attendance Record Capacity - 100,000

Facial Template Capacity - 10,000


Fingerprint Capacity - 10,000

User Capacity - 10,000


MF Cards - 10,000


Communication - TCP/IP, Wiegand, Wi-Fi

Screen Dimensions - 13.3-inch capacitive touch screen


Resolution - 1920 x 1080 pixels

Communication Ports - 2x USB, 1x RJ45, TF card slot,1x HDMI, RS232/485


Camera Pixel - 2-megapixel

Operating System - Android 5.1.1


RAM - 2GB DDR3

ROM - 16GB 

CPU Quad-core A17 1.8GHz(ZKTeco boosted)


Power Supply 12V-3A

Dimensions - (L*W*H) 354 * 50 * 1420 mm (13.94 * 1.97 * 55.91 in)


Operating Temperature: 0 ~ 50°C (32 ~ 41°F)


Operating Humidity: <90%


Storage Temperature: -40 ~ 60°C (-40 ~ 140°F)


Storage Humidity: 20% ~ 90%